Global recognition of Start-Up Chile, Mexican.VC + 500 Startups and Brazil hosting 2 major global sporting events makes it evident that Latin America is landing.
And to recognize and celebrate the unprecedented growth of this fun culture doing serious business across the globe, AndesBeat in collaboration with Austin, TX founded uShip is hosting  LatAm is Landing (Rooftop Meetup) at SXSW. 
In addition to our incredible speaker lineup (see following), we also have a confirmed guest list that includes representatives from top companies such as BBVA Ventures, VaynerMedia (Gary Vaynerchuk's media company – love that guy!), NY Tech Meetup, Springboard Enterprises, SendGrid, Indeed and Discovery Communications.
This meetup will bring together organizations, Latin American entrepreneurs and businesses that are closely tied to the current developments in the Latino business and technology communities in both the U.S. and Latin America.
The event is an exclusive event and every pre-registered guest will receive a survey prior to the event to learn about their interests and make sure they align with the conversation quality of the event.
Agenda
5:45 – 6:15 – Welcome, check-in and uShip HQ tour
6:20 – 7:00 – 10 slides / 10 minute 'keynotes'
7:05 – 7:45 – Sunset, beers and 'hot seats' on the rooftop deck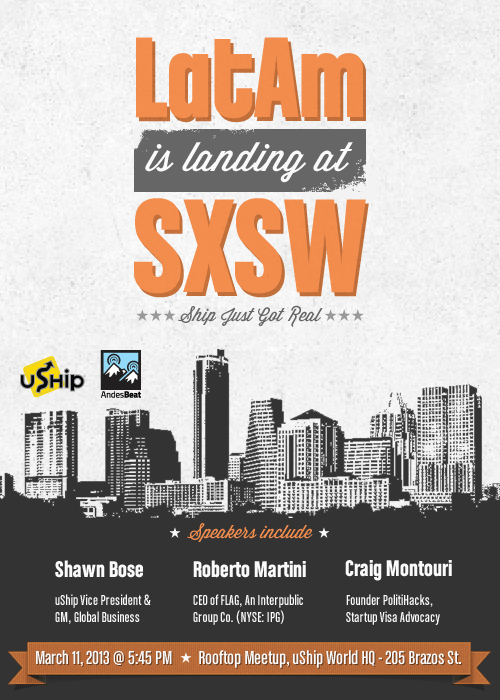 Featured guest speakers:
Shawn Bose, uShip Vice President & GM Global Business
Ship just got real at the uShip world headquarters after raising a(nother) round of funding, recent expansion into six South American countries, and the LatAm premiere of the second season of 'Shipping Wars' on A&E – all within a six month span. Shawn will share his firsthand experience on maintaining culture and momentum while scaling across borders.
Roberto Martini, CEO of Flag Co. (an Interpublic Group Co., NYSE: IPG)
Roberto has been involved in the marketing industry since 1995. He co-founded AG2 (Publicis), RAGE (Prax Holding) and Santa Transmedia Productions before creating Flag Holding (Interpublic Group) where he holds the position of CEO and Chief Creative Officers of 5 different business units: CUBOCC, Pong Dynasty, Iceland 2nd Nation,  The Kumite and S-Kull. Today Flag develops projects for soem of the most important brands in the world such as Google, Coke, Unilever, Samsung, Kraft, Pepsico, Loreal, Reckit Benckiser and others. Roberto will speak about the intersection of Latin America's creative digital economy and major brands.
Craig Montuori, Director of PolitiHacks
PolitiHacks makes politics suck less for startups. As an advocacy group that supports the Start Up Visa Act, PolitiHacks recognizes that in the global startup world equation somewhere the U.S. will be factored. In his presentation, Craig will share the progress on the Start Up Visa Act and what Latin American startup founders can expect in terms of securing visas to work on projects in the states.
The meetup will conclude with a 'Hot Seats' session where a few Latin American startup founders will be able to fast pitch their startup challenges in the region and receive advice from experts in our audience.
Event Organizers:
The LatAm is Landing Rooftop Meetup is co-sponsored and co-produced by uShip (Austin, TX) and  AndesBeat (Santiago, Chile).
About uShip
uShip is the world's largest and most trusted transportation marketplace, primarily serving the freight, household goods and vehicle shipping markets. Consumers and businesses can compare and book upfront quotes, name their own price or receive auction-style bids from 300,000 customer-reviewed Transportation Service Providers, ranging from independent owner-operators to the largest freight carriers and brokers.
About AndesBeat
AndesBeat is a hybrid media and guerrilla marketing company that designs and implements micro pr campaigns for companies wanting to do big things with small countries.
(Same form for attendee or press)